The AC Milan star is rumored to be soon joining Barcelona. That was said by Sergio Busquets, a senior Barcelona player.
It was revealed that one of the two players Joan Laporta had confirmed in secret. The figure is AC Milan midfielder, Franck Kessie.
Recently, the President of Barcelona, ​​Joan Laporta, officially announced that his team would bring in two new players.
Laporta said that two new Barcelona players would play as defender and midfielder and that has reportedly been confirmed.
Barcelona itself does a lot of buying players, even though it is being hit by the financial crisis left by its former president, Josep Bartomeu.
READ ALSO: Marc Marquez will be replaced by Stefan Bradl in MotoGP Argentina 2022
Even though his financial situation is in a tight condition, Barcelona is trying to bring in free players, so as not to incur large transfer fees.
One of the players who was brought in on a free transfer is Pierre-Emerick Aubameyang from Arsenal.
However, as reported by BarcaUniversal, Barcelona captain Sergio Busquets later confirmed that one of the two figures announced by Laporta was AC Milan midfielder Franck Kessie.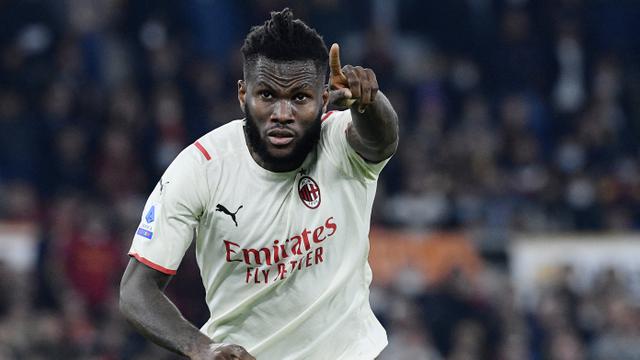 Indeed, Kessie is one of Barcelona's targets which will certainly be obtained this summer.
Franck Kessie has reportedly decided to join Barcelona after not extending his contract with Italian giants AC Milan.
Another player that Laporta has mentioned may be Chelsea centre-back Andreas Christensen, who is said to have also agreed with Barcelona.
Busquets leaks new Barcelona player Kessie
"Kessie? Of course because the Barcelona coach, Xavi Hernandez, saw it and agreed to sign him," Busquets said, as reported by Barcauniversal.
"I'm happy the team was able to get a player and a player like Kessie wants to move to Barcelona."
"Kessie is a strong player and doesn't lose possession. I'm sure he will help us," Busquets added.
Busquets' statement is not wrong, because Kessie only lost the ball 1.25 times and failed to control the ball 1.46 times from 90 minutes.
This shows that Kessie has 0.27 per cent of misses and 0.13 per cent of failures and is among the fewest in Europe's top five leagues.
Prior to joining Barcelona, ​​AC Milan midfielder, Franck Kessie, reportedly could still decide to move to Juventus or Inter Milan, even though the player wants to join Barcelona in the summer of 2022.
AC Milan midfielder Franck Kessie is reportedly still able to choose another club as his port in the summer of 2022.
The player will be on a free transfer after not extending his contract with the Rossoneri.
Kessie is reportedly still hesitant to choose and still has the opportunity to stay in Italy. At least, as reported by Semper Inter, there are two Pizza country clubs that can accommodate, namely Juventus and Inter Milan.
Kessie confirmed to leave for Barcelona
These two clubs reportedly attracted Kessie's attention, although the player was often heralded about joining Barcelona.
However, some time ago, Kessie decided to undergo a medical test with Barcelona and it was confirmed that he would leave AC Milan after the 2021/2022 season was over.
Profit and Loss Barcelona Sign Franck Kessie from AC Milan
According to information circulating, the player from the Ivory Coast has passed a medical test and is just waiting for the official time to cross to mainland Spain.
This news is certainly a breath of fresh air for Franck Kessie, whose future at AC Milan has recently been in the spotlight. Especially if it is not a matter of contract extension which has not come to an agreement.
https://comunidad.unitec.mx/conversations/servicios-escolares/2022twfuneral1080/62458399cfc6b94d0c0cb28c
https://comunidad.unitec.mx/conversations/my-unitec/1080tw/624583ffcfc6b94d0c0cc368
https://public.flourish.studio/visualisation/9219444/
https://public.flourish.studio/visualisation/9219530/
But now the player has found a new port after the long drama with AC Milan.
The news about Franck Kessie's approach to Barcelona was revealed by the journalist and Italian transfer expert, Fabrizio Romano, Tuesday (22/03/22).
"Here he is. After a verbal agreement a few days ago, Franck Kessie became the new Barcelona player, until 2026," he wrote via the Twitter platform.
"The deal is valid for four years. He joined for free from AC Milan," he added.
Still in the same tweet, Fabrizio Romano also revealed the amount of Franck Kessie's salary at AC Milan.
Even so, until now both Barcelona and AC Milan have not spoken officially regarding the transfer of Franck Kessie.
Fate at AC Milan
As is known, the name Franck Kessie is indeed one of the most popular names in the midst of AC Milan's efforts to extend the contracts of a number of players.
Now the news revealed by Fabrizio Romano also slightly answers a big question mark about the player's future at the San Siro, even though AC Milan as the club's owner is still silent.
Other related articles:
https://wakelet.com/wake/mGohXWuW27lMmeWpTCb6O
https://www.blockdit.com/posts/6245897cebf4807748ecdc0c
https://comunidad.unitec.mx/conversations/my-unitec/deemo-2022twdeemo1080/624593d5cfc6b94d0c0ce8e0
https://comunidad.unitec.mx/conversations/servicios-escolares/tw-deemo-1080/62459450b7b86640dbd33b62
https://public.flourish.studio/visualisation/9220238/
https://public.flourish.studio/visualisation/9220290/
https://www.blockdit.com/posts/624598c5892de60da138396d
https://deemotw-watchonline.tumblr.com/
https://public.flourish.studio/visualisation/9220883/
https://public.flourish.studio/visualisation/9220908/
https://wakelet.com/wake/UdERIgwUfGOLsm9Z9ACnr
https://www.blockdit.com/posts/6245a603d9699dbefddbd4ea
https://inthewake-watchonline-tw.tumblr.com/
https://public.flourish.studio/visualisation/9221392/
https://public.flourish.studio/visualisation/9221464/
https://wakelet.com/wake/NxsqwGo7JmanUh1hx0wYt
https://www.blockdit.com/posts/6245adf071397d51cf5127c4
https://public.flourish.studio/visualisation/9221816/
https://public.flourish.studio/visualisation/9221885/
https://wakelet.com/wake/zYXphKY_RXH315vRZ7JXy